Winter has come, which means it's time to radically rethink your daily skin care. At this time of year, it becomes drier and more sensitive, prone to irritation and peeling and loses elasticity. There are more than enough reasons for these metamorphoses.
Under the influence of cold, the stratum corneum of the epidermis thickens and the function of the sebaceous glands is reduced. The dry air of heated rooms dries the skin, disturbing its hydrolipid balance and making it more sensitive.
Traditionally, we consume less vitamins in winter. Adds "extreme" and seasonal restructuring of the body. None of this has the best effect on the skin. To maintain its beauty and youthfulness, we will have to work hard.
The rules of facial cleansing in winter
Many cosmetologists advise to take off your makeup in winter with cleansing milk or cream and to postpone foams and gels with water until spring. This will not disturb the hydrolipidic mantle, which protects the skin from dryness and coldness.
However, there is another opinion: such care is great for dry and sensitive skin, but can play a cruel joke with the owners of the combined face skin: without water is good to remove dirt and grease is quite difficult, and it can provoke inflammatory elements.
If you can't refuse to wash with water, choose a non-aggressive foam that does not contain sulfate. Whatever way you take off your makeup, be sure to use an alcohol-free tonic. It will remove the remnants of cosmetics and prepare the skin for the cream application.
How to choose a face cream in winter
In winter it is better to choose a day cream, which is more protective and nourishing, and less moisturizing. Of course, your skin needs to be moisturized at all times of the year, but in winter it is more appropriate to use products that prevent moisture evaporation than those aimed at attracting moisture from outside. In a dry air room, the active ingredients in the cream will extract moisture from deep layers of the skin.
Avocado oil, shea butter, cedar oil, retinoids, vitamins E and D, as well as hyaluronic acid and chitosan, have proven themselves as components for the "winter" day cream. The latter, although having a pronounced moisturizing effect, simultaneously create a protective film on the surface of the skin, preventing evaporation.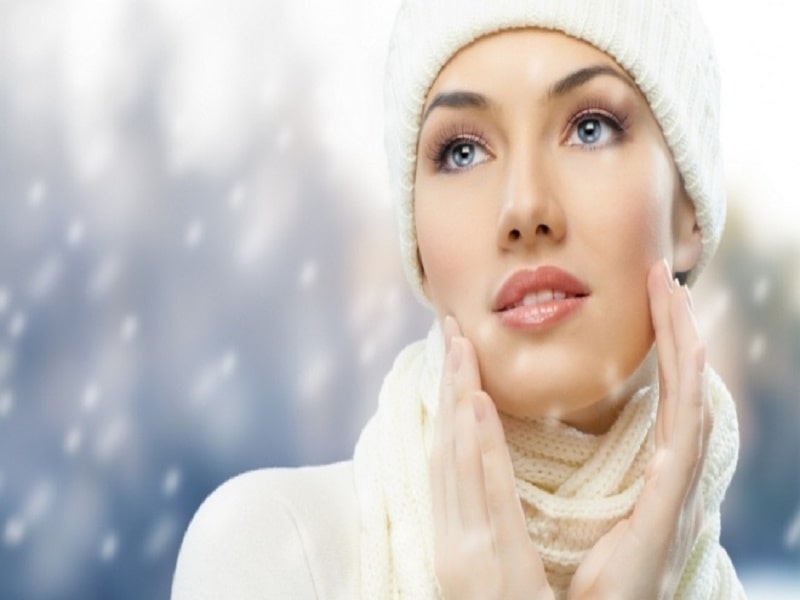 If you are the owner of oily or combination skin, be careful with oily saturated creams, which can provoke comedones. It is believed that for winter care you should choose a cream close to standard care. So, if your skin is usually oily, choose a cream for combination skin.
If the skin is combined for most of the year, try a cream for normal skin. For this type of skin, dry skin creams may be better suited in winter. If there is a tendency for vascular sprockets, you can look for a cream that contains vitamin K. Apply the day cream 40-60 minutes before going out into the open air.
In the evening, after showering and at least an hour before bedtime, you can use moisturizing, nourishing and vitamin K creams. It is better to apply them to a slightly moistened face, and after half an hour, be sure to remove the remains of the cream with a tissue. Do not forget about your lips, if you do not use regular lipstick, stock up on hygienic.
Extra skin care in winter
In the cold season, the skin needs exfoliation with gentle exfoliation and soft scrubs. They should be used once a week. During the day, moisturise the skin with thermal water. Do not forget to use serums, including those with an oil texture. At least a couple of times a week, spoil your face with masks. During the cold season, massages and self-massages are very suitable, which activate the blood circulation in the skin.
There's not much to worry about.
Remember to drink enough liquid. Try to fight against excessive dryness of the air in the room with special devices. You can also hang a wet towel on the radiator and place containers of water in the room. Try to place the bed away from the radiator. Outdoors and do sports, but do not overdo it. Try to keep your diet varied and full of fruits and vegetables and foods containing omega-3.