In youth, skin care is easy: just rinse off the cosmetics with any lotion and apply a light moisturizing cream. It's enough to look fresh and cheerful. However, the older a woman gets, the more effort is required to maintain her beauty. Vitamins in cosmetics are a great way to give your skin a fresh, restful look, hide its true age and look attractive.
Why buy cosmetics with vitamins?
Are there any benefits of cosmetics with vitamins at all, and do not you overpay for another "marketing move"? Dermatologists answer quite specifically: the benefit of vitamins is and very tangible.
The fact that vitamins in cosmetics are absorbed into the upper layers of the epidermis, up to dermis ("basic component" of the skin, which lies under the epidermis). Thanks to this vitamins get exactly where they are really needed – and in those quantities that can really benefit. Vitamin cosmetics are particularly beneficial for the face with its thin, vulnerable skin exposed to wind and frost, dust and heat.
In addition, the use of "vitamin cosmetics" is significantly safer than taking similar compounds in the form of pills. Before getting on your skin, vitamins do not oxidize in the stomach, do not "break through" the liver barrier and are not filtered through the kidneys. As a result, you may not be afraid of overdoses and related side effects that are common to standard multivitamin complexes.
However – when buying "vitamin cosmetics" should pay attention to the components that are part of a cream, gel or lotion. Below we will tell you which vitamins to pay attention to in the first place.
Vitamin A in cosmetics
Vitamin A (also known as retinol) is an essential element of full health, giving the skin a fresh look, youthful appearance and pleasant color. Retinol has the following properties that have a positive effect on skin health:
moisturizes the skin and eliminates fine lines and wrinkles;
evens out the colour – the skin gets a lighter shade of tan;
fights inflammation – removes couperose (a small vascular net on the face and chest) and removes small pimples;
masks the pigment spots;
prepares the skin for sunburn – reduces the risk of sunburn on the first day of travel.
Retinol is a part of cosmetics for mature, problem skin, in the structure of cosmetics to protect from the sun.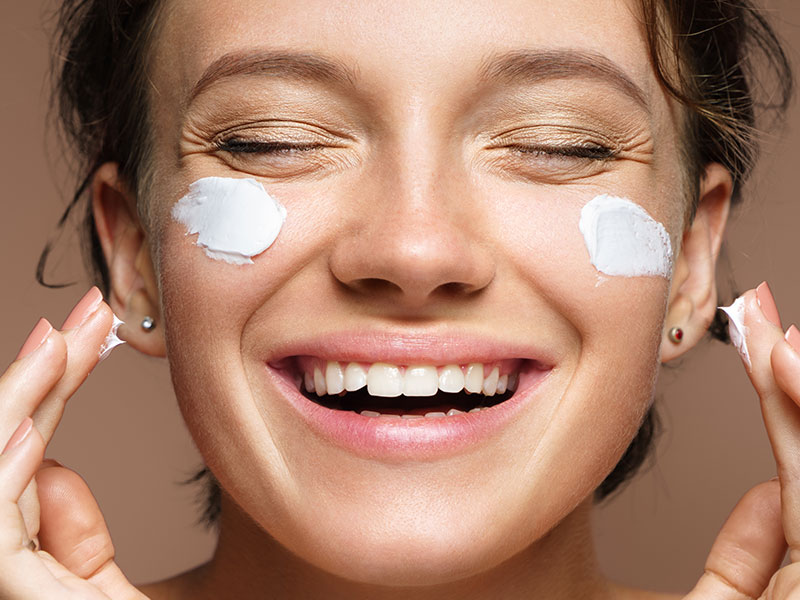 Vitamin C in cosmetics
Vitamin C is an antioxidant that eliminates oxygen deficiency in the cells of the whole body, including – and in the cells of the skin, which consist of epidermis and dermis. It is an essential vitamin that prevents premature skin ageing. Vitamin C has the following properties that have a positive effect on the health of the skin:
whitens the skin – removes pigment spots;
cures scarring changes after severe acne;
fights inflammation and couperose.
Vitamin C is a part of almost all age-related cosmetic products for those aged 30 years and older. Vitamin C works well in tandem with vitamin E, so very often in the composition of skin care products can be found both of these substances.
Vitamin E in cosmetics
Vitamin E is vital for the full health of the skin, as it accelerates the regeneration of epidermis and dermis tissues and leads to rapid healing of small wounds, abrasions, scars. Vitamin E has the following properties that have a positive effect on the health of the skin:
moisturizes the skin – smoothes fine lines, so it is not unreasonably considered a vitamin of youth and is recommended for all women who crossed the threshold of youth;
removes pigment spots – helps fight freckles.
Vitamin E in cosmetics is present mainly in products for problem, fading or dry skin.
Vitamin F in cosmetics
Vitamin F is a complex of polyunsaturated fatty acids, which perfectly protect blood vessels from the accumulation of cholesterol plaques in them. Vitamin F has the following properties that have a positive effect on the health of the skin:
it soothes the skin;
normalizes metabolism at the cellular level;
fights inflammation;
moisturizes and evens out skin colour.
Especially effective this vitamin, along with tocopherol and retinol, if the structure of a cosmetic product includes all these substances – its effect really does not take long. The main source of vitamin F is vegetable oils, and if a woman categorically excludes them from her diet, she may experience a vitamin F deficiency.
What else is important to know about vitamins
Any vitamin can provoke allergies. If after applying the product on the skin of a woman began to feel a burning sensation, there was a rash, itchy – then it is necessary as soon as possible to wash with plain water and take a medicine for allergies. After that, it is important to consult with a dermatologist, and clarify with him what cosmetics can be used without fear for their health.
And in the end – a little advice: before buying "vitamin cosmetics" pay attention to the composition of the cream, lotion or serum that you choose. If vitamins are meant somewhere at the end of a long list, it is likely that the true content of these substances tend to zero, and no special effect they will not have.